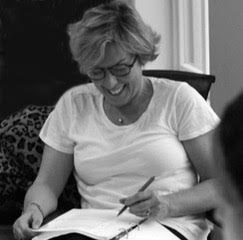 RACHEL MARINER ENSURES THAT VERY FEW STONES ARE LEFT UNTURNED.
Rachel Mariner wrote her first play in Corning, New York when she was eight years old.
She didn't write another play for twenty years. In the interim she studied philosophy and law, earning degrees from Wheaton College in Chicago and Harvard. She was a trial lawyer in Washington, DC during the glorious nineties and was on the team defending President Clinton in the Paula Jones litigation. After two back-to-back trials in Kentucky and Luxembourg lasting half a year, she went home and wrote her second play: Baby Love Time. Those were the three words that occurred most frequently in Madonna's lyrics and those were the three things she didn't have.
She moved to London and kept writing plays.
Recovering Misogynist, her autobiographical magical realist #metoo story, premiered in an experimental digital theatre production in the summer of 2020 and was in Edfringe Online 2021. Her play Bill Clinton Hercules premiered at the Edinburgh Fringe in 2014, went to the Adelaide Fringe in Australia, and played in Little Rock before a run in London's Park Theatre in May-June 2016. In 2015 she completed her first commission Wedding at Cana for a Chicago LGBT activist group. She was the runner up in the Kings Cross New Writing Award, specially commended in the Verity Bargate and won the Washington Theater Festival short play competition.
Rachel unearthed the untold story of the women around the Magna Carta in her play Treason but she was unsatisfied with a single play to deliver the complex story, and earned a Masters in screenwriting at Royal Holloway turning the play into a television series, Magna Carta. Toward the end of her work on the script, her father unearthed a family tree that showed she is a descendant of one of the signatories. Her research into the treasonous scramblings that preceded the greatest legal document in history is informed by her participation in Occupy London.   Rachel and the poet Hannah Jane Walker worked on a show about friendship at the Camden People's Theatre that became part of Hannah's Human Resources podcast.
Her plays have been performed in London, Cambridge, Chicago, Washington, Kansas City and Little Rock and her recent digital play streamed in nine countries.  She has collaborated with Twisted Willow Theatre in Cambridge (Seven Words for Love and The Butterfly Effect) and Purchased Experiences Don't Count (Damnation of John Smith).  Rachel manages a legal consultancy called Incandenza. 
Rachel has moved back to the United States. Where she ultimately lands is unknown at this point. Right now she is hanging out with the snow geese.