Before the collapse of the sub-prime loan market, camera phones and Black Lives Matter, it was 1997, and no one had ever heard of the sub-prime real estate market or a thing called predatory lending.
Earl Johnson wants to fight his foreclosure, but he's stuck with a girl as his pro bono attorney. Rebekah Adams wants to win her first jury trial, but she's stuck with Earl Johnson as her client.
Like Inherit the Wind, Kerching is written 20 years after the real trial on which it was based, so the metaphors have deepened and the issues are both more and less clear. Like Twelve Angry Men, Kerching mines the drama of strangers forced to consensus that is a jury. Like all plays written about the rule of law, Kerching demonstrates that justice may only be possible if you work like a dog.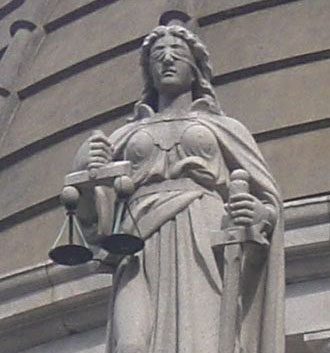 running time 120 min
Characters:
(eight actors play two roles each as noted, 5 men, 3 women)
TRIAL PARTICIPANTS:
EARL JOHNSON. Plaintiff, 65, black, Georgia accent, stooped walk, terrible shoes.
REBEKAH ADAMS. EARL'S lawyer, 29, super white, Eastern Seaboard accent.
ELIOT GOLDMAN. Sales director at First Government (the defendant bank), white, 50s.
RUBEN HAGELMAN. Defendant's lawyer, white, 50s, a self-made man. No fan of Rebekah.
JUDGE JOHNSON.  A U.S. Federal District Court Judge. White, 60s.
COURT REPORTER. White female.
BURT SCHWART. Plaintiff's expert witness. White, 60s, unlit cigar.
WANDA IVORY. Plaintiff's witness, Black woman, 40s.
JURORS:
MARCUS SMITH.  55, black. (EARL) 
KIM KAZAK.     28, white. (REBEKAH)
JAKOB NOVAK. 45, white, Czech accent. (ELIOT)
RICHARD HODGES. 60s, white. In the 1%. (RUBEN)
ELWYN DOWD. Essentially Elwood P. Dowd from Harvey (JUDGE)
MELISSA SHADOW. 40s, White middle-class mom (COURT REPORTER)
JAMES LANSING. 30s Newt Gingrich's Legislative Director (BURT)
ANGEL BAYSELL. late 60s, black. (WANDA)
Setting:
Washington, DC, 1997. The Jury Room and Court 302 at the United States District Court for the District of Columbia at 333 Constitution Avenue, NW.
Production History:
Reading – Theatre Tours International – Victoria Theatre, London, Guy Masterson directing, 2013
Reading –  D.C. Center – Washington, DC, Jason Kuller directing, 2012
"captured the rhythm and vernacular of courtroom proceedings with a rich authenticity…" Adam Narat, Royal Court Theatre